Gaff tape
From Roadiepedia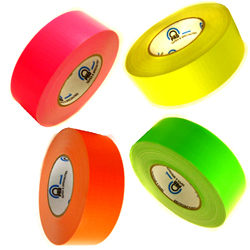 A cotton cloth tape with synthetic rubber adhesive.
Gaffers tape has a matte finish which doesn't reflect light.
Its quality adhesive lets the tape be removed without leaving residue.
Gaffers tape is true cotton cloth, not reinforced vinyl like duct tape.

It tears evenly, is waterproof and has an adhesive prized by stagehands and technicians for coming up clean.

Not only is it useful in the technical sense,it also makes for some good fun:
http://www.ratsound.com/cblog/uploads/tape.jpg
Look! It's a Lampi bank -- I wonder how many coins he collected each day?