Gaff tape
From Roadiepedia
(Difference between revisions)
---
Revision as of 03:10, 7 October 2007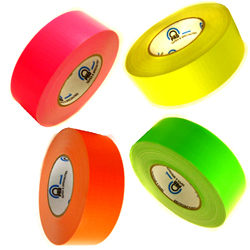 A cotton cloth tape with synthetic rubber adhesive.
Gaffers tape has a matte finish which doesn't reflect light.
Its quality adhesive lets the tape be removed without leaving residue.
Gaffers tape is true cotton cloth, not reinforced vinyl like duct tape.

It tears evenly, is waterproof and has an adhesive prized by stagehands and technicians for coming up clean.