| | | |
| --- | --- | --- |
| | | |
| | | |
Music For Relief - Tenacious D and Friends
Wiltern Theatre Hollywood January 18th 2005
This had to be up amongst one of the best fundraisers I have ever seen.
The line up was awesome: Jack Black and Kyle hosted the evening with set introduction by two of the funniest guys around,
Will Ferrell (also, background dancer for the evening) and Chris Rock.
There was also accoustic music from Dave Grohl, Tenacious D (ie. Jack Black and Kyle), Eddie Vedder, Josh Homme and
Beck.... who later all jammed together to produce one amazing finale.
These guys proved, once again, their extreme talent and Rat was honored to be able to be a part of this by donating both gear and personel
so as to help contribute to this worthwhile evening.
Every person who took part was there donating their time to raise money for Tsunami relief which enabled over 96% of the evening's proceeds
to go directly to the American Red Cross.
For further info, contact Daniella Shepherd at the Rat Office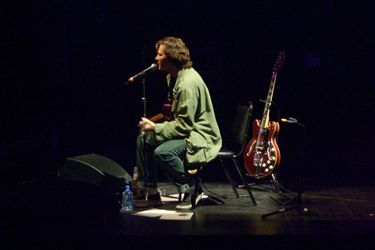 Pearl Jam's Eddie Vedder with the MicroWedges
| | | |
| --- | --- | --- |
| Monitor Amps | Andy Rat | Wiltern FOH Racks |
| Greg Nelson and Dave Rat at the FOH | Which Way to Go | The Wiltern Theatre, Hollywood |
| Tommy LBC | LBC and the MicroWedges | Wiltern FOH Processing |