| | | |
| --- | --- | --- |
| | | |
| | | |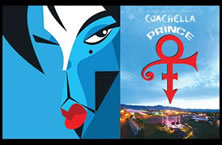 Coachella and Stagecoach 2008
Once again the Rat Sound is proud to be the main sound provider for all 5 stages.
First, for the Coachella festival 2008 (24th to 26th April 2008) which includes artists such as Prince, Roger Waters, Portishead, Jack Johnson, Death Cab for Cutie, the Verve and Kraftwerk. And then, one week later, for the Country festival Stagecoach featuring The Eagles, Rascal Flatts, Tim Mcgraw and Carrie Underwood.
As in past years, L'Acoustics has been the choice of speaker for 4 of the 5 stages,
with Rat Trap 5's being used for the Smaller Gobi Tent.
Rat has a crew of 32.
Articles and Press from 2008
Coachella Rocks with Rat Sound - Pro Sound News Steve Harvey

Roger Waters performs with L'Acoustics at Coachella - Lighting and Sound America

Coachella Set for Lift Off - 3rd Octave Magazine

Yamaha Press Release
EAW MicroWedge has fun in the sun

and Previous Years:

Rat Continues Coachella Support - Mix Magazine
Behind the Scenes of Coachella - Total Production US
Click here for set up pics from 2008
Check here to see pictures from previous years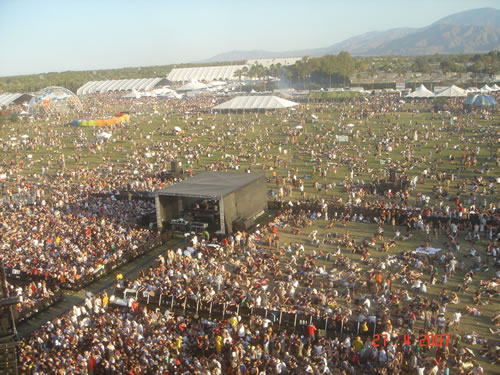 (pic from 2007 aerial view from Main Stage early in the day, courtesy of Goldenvoice)
By 5pm all you can see will be people!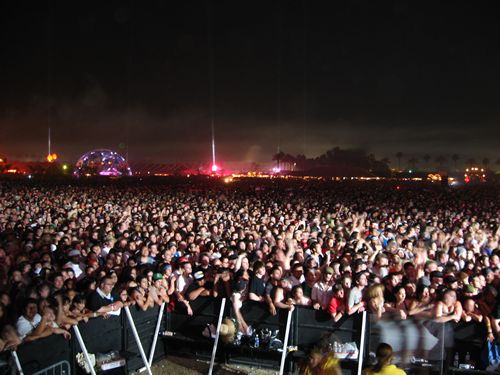 (pic from 2007 when Rage Against the Machine headlined the Main stage)
Equipment 2008, Main Stage:
Main PA:
42 x L'Acoustics V-Dosc Speakers

18 x L'Acoustics dV-dosc

6 x L'Acoustics ARCSs

48 x Rat Dual 18" Subwoofers

Lab Gruppen / LA48A amplifiers

Crown 2400 amplifiers

Crown 3600 Amplifiers

Crest 7001 Amplifiers
Main FOH
Main Monitors
2 x Yamaha PM5D-RH

1 x Soundcraft FX8

L'Acoustics ARCS

Rat Dual 18" Subwoofers

L'Acoustics HIQ's

L'Acoustics 108P
Other points of Equipment Interest.
The rest of the stages will be using the L'Acoustics V-Dosc for the main PA,
(apart from the Gobi tent which will be using the Rat Trap 5's),
and monitor speakers will be the EAW MicroWedge 12's