Oh the joys of re realizing the same thing over and over again. I have the attention span of a windshield wiper. As if it is some great revelation I was out surfing this morning and pondering the less than thrilling weight of affairs of many of the projects in which I am immersed and then it dawns upon me. Heck, it is just winter darn it. I know this, I always know this, Winter is slow, sluggish resistive and lackluster for a touring rock n roll human, except for surfing and the snow sports. Anyway, I guess another way to look at it is I can feel the excitement of summer rock shows and general happiness looking and it makes me happy.
Occasionally in life we stumble across things that touch our hearts and bring us great concern. While driving home the other day I was shocked and dismayed to see this: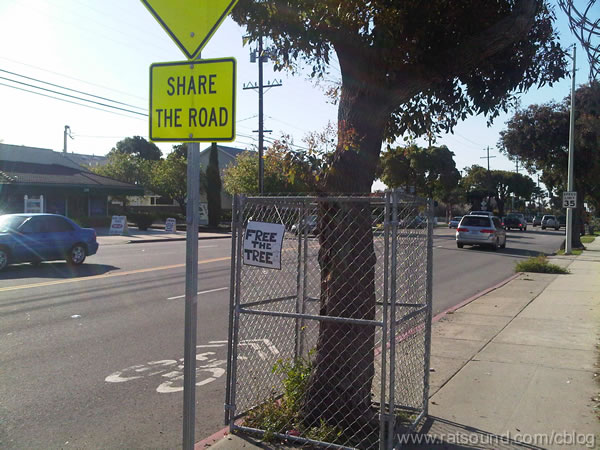 Yes, Share the Road! What the hell are they thinking? Road sharing is stupid. Oh wait, no, that's was not it. Oh that's right, it's the Unfree Tree! Truly a travestree. Caged and no longer free to roam and hunt it will surely starve to death. What crime could this tree have committed to deserve this? I don't know, but I do know that I had no choice other than to do what I am sure everyone of you is thinking right now. WE MUST HELP FREE THIS TREE!
So with the help of my daughters we started a Free the Tree page on Facebook. http://tinyurl.com/yz4j5nv Though we have no idea how it will help nor a plan or strategy whatsoever, if you feel so inspired, please join to help save the Unfree Tree!
**** Sound Nerd Speak ****
In case ya have not noticed, the cold, yes cold! it gets down to the low 50's here sometimes at night, weather has me spending more time indoors protected from those fierce elements. And what better to to do with some shacked up home time than to pull out the video camera and the power tool and spend some quality time undressing a few of the hottest wedge monitors on the market.
And if that is not enough, I had a great time playing Lego blocks with the new final production model EAW MicroSubs that arrived last week.
Hey, check out the mysterious ne L-Acoustics box called KARA
I guess the big debut is going to be at MusikMesse Frankfurt. Is what I see a mini K1 version as dV-Dosc is a mini V-Dosc? oooooh!
Ok, let me ask you this. How many of you know the difference between a 'Free Field' and a 'Random Incidence' measurement microphone?
Ha, some tweaky stuff going on there! And to think that a cheap mic and an old sketchy RTA is more than enough resolution to easily weed out 90% of the headphones I tested.
I thought this was a quite credible and convincing test of doppler versus phase distortion that seemed to coincide with the simple testing I did http://www.youtube.com/watch?v=f-XPawd5unk
**** End Sound Nerd Speak ****