Back Again
First Blink 182, now Soundgarden, hey I am the reunion guy! Oh, if you are in to the sound nerdery stuff, I have been pretty good about getting videos up on youtube about various sound world things. I really try and cover subjects or explanation that are off the beaten path. Check out either http://www.youtube.com/user/www73171 or http://daverat.com/ if you are into that kind of stuff.
Oh and while I am doing shameless plugs, if you need any sound or video gear, give Daniella or John Karr a shout and they will hook you up. Rat keeps low sales margins, will gladly give you real world advice and if you ever have any issue with anything we sell ya, we will take care of it and get you dialed in and happy.
Finally the first batch of Rat NL4 Sniffers are coming in next week and though I have not seen the production final, the photos I've seen are really cool. The web site is still being worked on but to check out the products as they become available take a peek at http://soundtools.com/
OK, time for some ramblings and adventures
**** Back in the Day ****
Rewind twenty years back to the most grueling non Black Flag tour I have traveled. Three of us across on the bench seat of rented bobtail truck, following the band busses and hauling the monitor rig and FOH drive.
Danzig, Soundgarden, Corrosion of Conformity, Warrior Soul after Boston
07/27/90 Santa Monica Civic, Los Angeles, CA
07/28/90 Warfield Theatre, San Francisco, CA
07/29/90 Wilson Theater, Fresno, CA
07/31/90 Horticultural Center, Salt Lake City, UT
08/01/90 C.I. Sports Complex, Denver, CO
08/03/90 Riviera Theater, Chicago, IL
08/04/90 Central Park Ballroom, Milwaukee, WI
08/05/90 First Avenue Club, Minneapolis, MN
08/07/90 Mississippi Nights, St. Louis, MO
08/08/90 Bogart's, Cincinnati, OH
08/10/90 Latin Quarter, Detroit, MI
08/11/90 Agora, Cleveland, OH
08/12/90 Metropol , Pittsburgh, PA
08/13/90 Concert Hall, Toronto, Canada (cancelled)
08/15/90 Citi/Axis, Boston, MA
08/17/90 Beacon Theatre, New York, NY
08/18/90 Airport Music Hall, Allentown, PA
08/19/90 Trocadero, Philadelphia, PA
08/21/90 Ritchie Coliseum, College Park, MD
08/22/90 The Boathouse, Norfolk, VA
08/24/90 Huger Street Concert Hall, Columbia, SC
08/25/90 Center Stage, Atlanta, GA
08/27/90 Houston, TX
08/28/90 San Antonio, TX
08/29/90 Unicorn, Dallas, TX
08/31/90 Celebrity Theater, Phoenix, AZ
09/01/90 UCSD, San Diego, CA
I was doing monitors and Danzig was easily the worst artist to work with, still to this day, that I have ever encountered. That said, misery in retrospect is always a great story and there were some really memorable times. Us soundies, Brandon, Karrie and I had an ongoing battle with the backline/merch truck. I think Brandon sent me this pic a while back.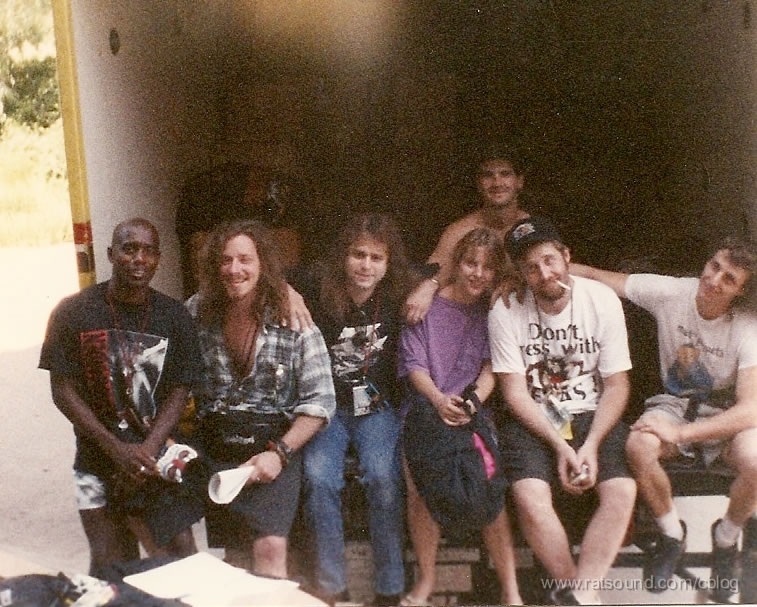 I remember threading a bass string through a six pack of empty beer cans and attaching the contraption via another bass string around the exhaust pipe of their truck and then using some gaff tape to hold the cans against the muffler. A few miles out on the freeway at 3 am, the gaff tape melts, the cans drop and drag and bounce and we honk and zoom by with huge smiles.they pull over on a pitch black highway to the mysterious clanging sound.
At another gig they trapped poor Brandon in the back of our truck and sealed the door right after tossing in a brick of firecracker. We heard this banging sound and opened the truck to a huge smoke plume and a human comes coughing out. Tiger balm on their truck seat, an Estes Rocket launcher fuse attached to an M70 attached to the dome light in their truck and on and on the pranks went. Glenn Danzig once took a swing at me mid show, the feisty little fighter he is. And everyday we found endless amusement in the eight foot high drum riser with a giant foam skull that had lights behind the eyes, we called it "Bullwinkle."
Anyway, for as much as Danzig was comic humor with a bad attitude, Soundgarden was pure heavy intense power and awesome to watch and cool people. We got on great with COC and Warrior Soul. After the tour we all went our separate ways, Rat Sound was really not very big at the time and Soundgarden took off and went with Showco for sound for the next twenty years.
So here I am two decades later doing front of house rather than monitors and mixing one of the early bands that took a chance and took a little punk rock sound company on tour with them.
**** Sound Nerd Speak ****
Sound Tip!
Ok, all you soundies should know that when setting up your main PA if you put all the subs stage center, you get pretty much an omni pattern or a fairly even coverage left to right but it tends to over sub woof the band. With newer cardioid setups you can reduce the 'band kill' a bit but still having the band 3 feet from subs that are trying to shoot low end hundreds of feet is bound to cause issues.
Here is a plot of two low sources spaced about 18"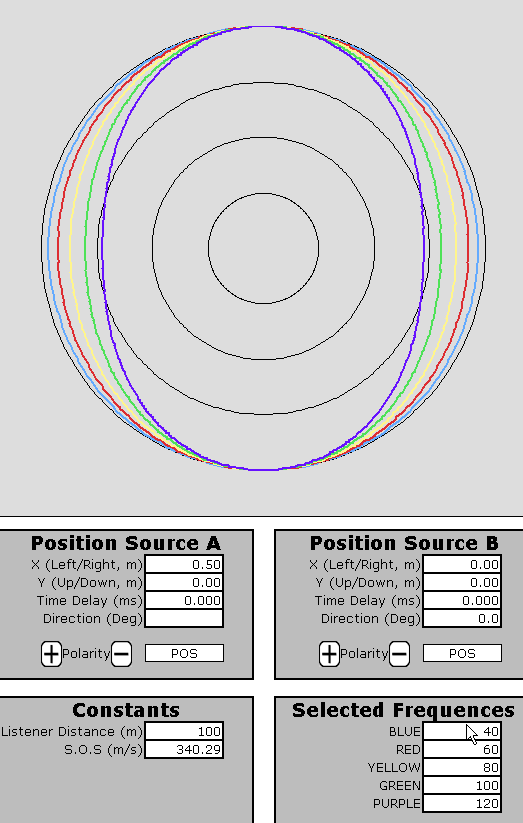 So we space our main PA subs out and put a pile stage left and a pile stage right. This gets the subs father from the band but gives us a a power alley down the middle and reduces the low end off to the sides. While practical, their are several undesirable side effects like the creation of a power alley and diminishing low end off to the sides. If you have been following this blog you will know it is something I have spent much time on.
Ok, now check this out! First the good news; here is one of those rare things in our sound world that is super easy, has no real negative side effects and improves the quality of what we are trying to achieve. That bad news? All you front of house engineers do not get to enjoy it because it is a stage monitor tip. Think about the coverage pattern of two spaced subs, hot in the center, quieter off to the sides, where would that be useful?
How about drum fill? Rather than stacking two subs directly behind the drummer, what is you spaced those two subs apart and put one on either side? Then your sub response would look more like the plot below: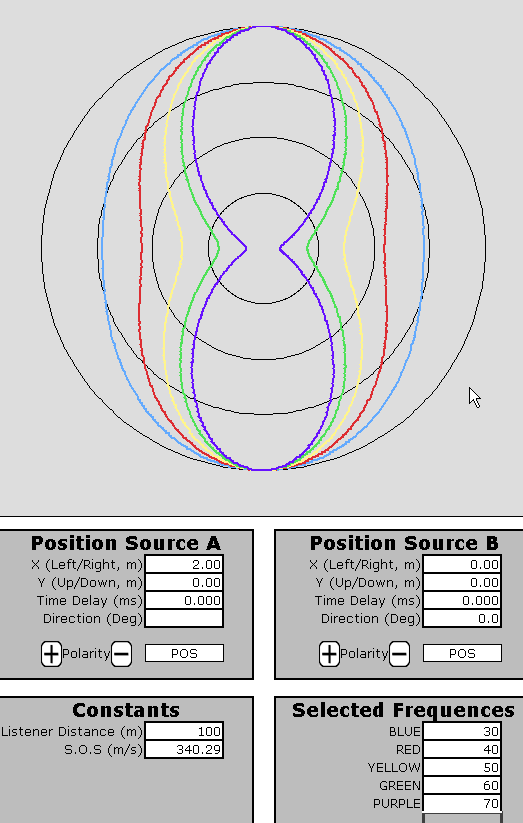 Now, with the drummer in the perfect hot spot. and the rear lobe fairly harmlessly behind the drummer, we now get a bit less bleed into the drums and less bleed to other parts of the stage. Pretty much you would be intentionally creating a power alley just for the drummer. Want to take the concept further? Use three subs. One behind the drummer and one to each side. Either physically place them equidistant from the drummer or if space behind is an issue, use time delay on the rear sub so all three subs are timed to hit the drummer at the same time.
The cool part about the triple setup is it creates a perfectly timed focal point of low end on the drummer but the low end tapers off as you get further down stage as well, reducing the drum sub level heard by the singer.
The effect of this is not overly dramatic but it is audible, usable and another useful tool to add to your sound tool box.
**** End Sound Nerd Speak ****
I am actually in Scotland right now, out with Blink 182 doing production rehearsals. I will try and get caught up on more of the Soundgarden adventure and will have plenty on Blink to come as well, but for now, how about some pictures?
I actually have quite a bit to do mixing soundgarden so I did not really have a chance to shoot show pics without screwing a cue, but here is the pre show Vic Theater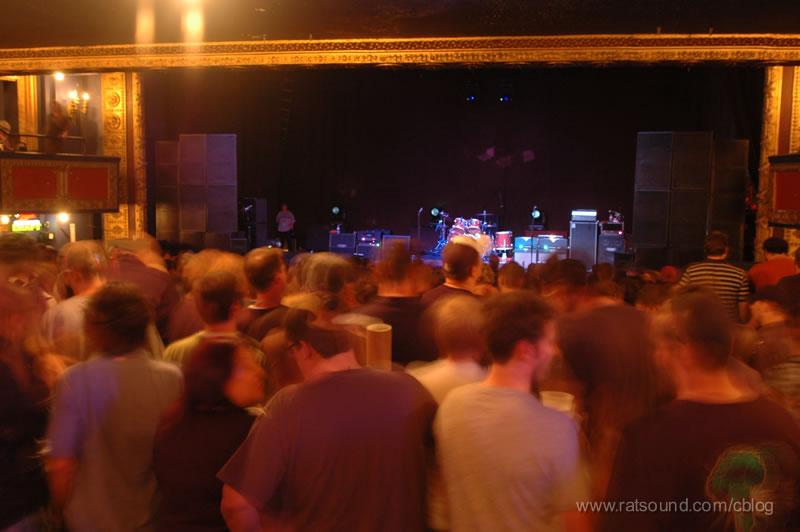 So though I do not do it often anymore, this Soundgarden gig was just myself as a sound engineer and every bit of gear was supplied by other vendors. For the monitor rig and FOH drive, I had the great pleasure of working with Carlson Audio. They did a wonderful job and best of all I had the honor of long time friend Allan Bagley as my FOH tech. Thank you Allan!
Whenever possible I try and carry extra subs. Even if I just use them as an effect, having a bit of nitro boost never hurts. For Soundgarden at Lollapalooza I pondered this for a bit, hmmm, what can I do that is kind of cool and unique? Hmmm, oh I know, what about giving some quad 21" subs a try? A few phone calls and Hello Cleveland! Thank you Ryan McCauley and all for making this happen.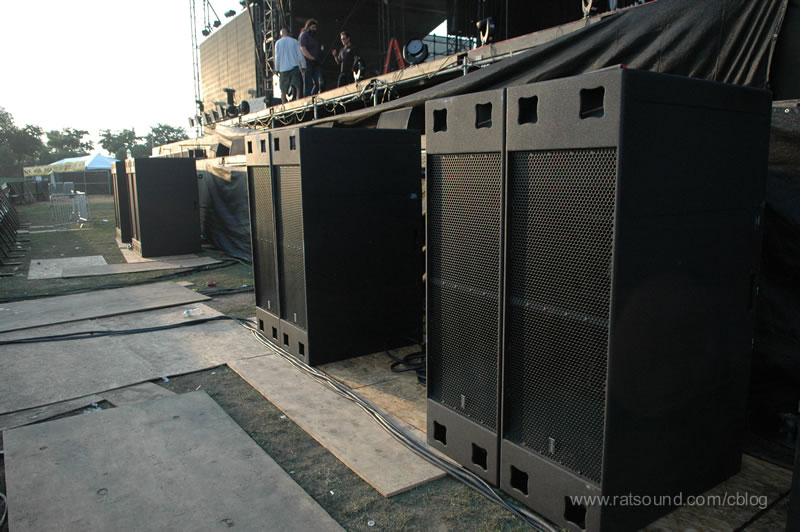 How were they? Well, keep in mind the Clair I5 rig had 24 subs already which worked quite well. I used the McCauley's as Infra-Subs and eight of these 500 pound monsters, each on its own 14000 watt Lab Gruppen, put up a solid match for SPL and definitely hit some lower frequencies. Ooooh, I love playing with big toys!
Here is a shot from stage of FOH mix during the wee hours of our 7 am line check load in.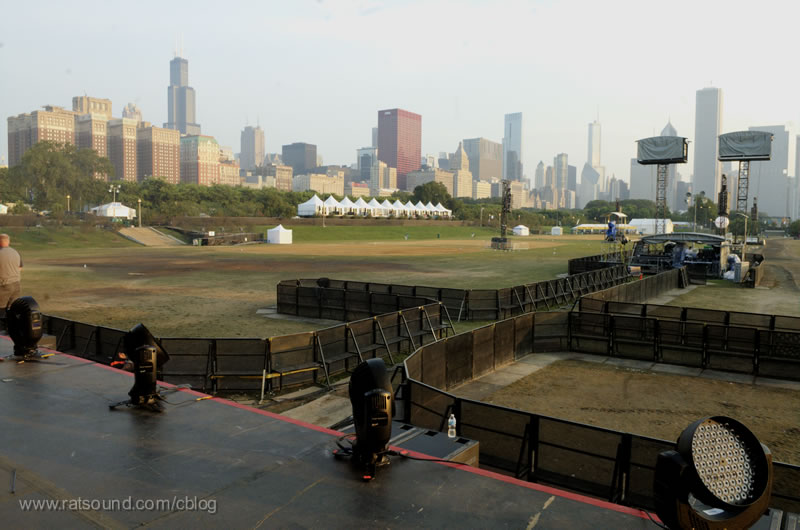 And back the other way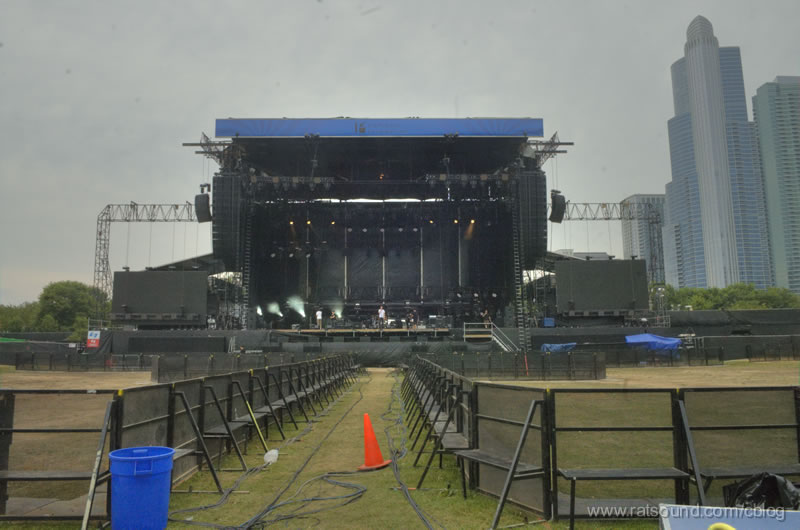 I watched a bit of Wolfmother and that is about all I got around to shooting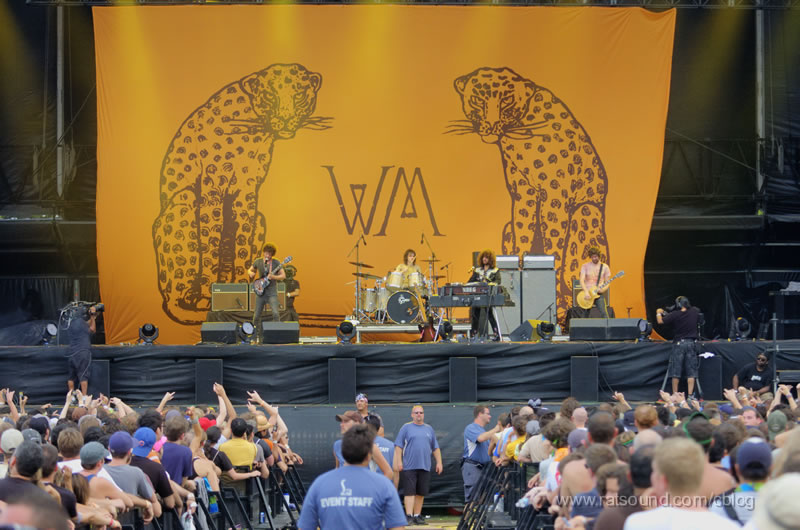 And to try and end up in the current time frame, this is my sound world for the Blink 182 non-festival gigs. Notice the compact XL4. Other than a couple of Rat racks, this one is all SSE gear from the UK.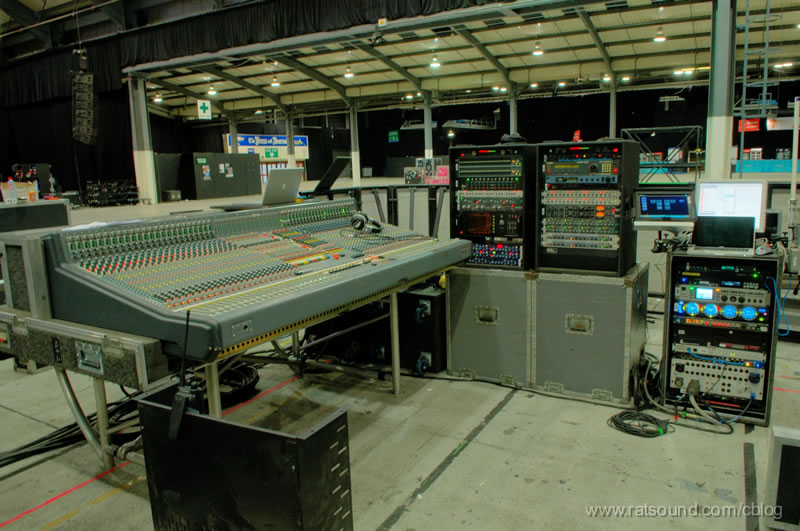 Ok, off to go sort out some crazy mechanical spinning drum riser. Let me ask you this. How do you run a snake to a spinning turntable drum riser that flips end over end? Hmmm, good question and Steve Walsh and I are knee deep in unraveling this conundrum. Will let ya know as soon as we figure it out and also know if it works :)
Dave Rat