3:10pm. At the gig, Pink Pop Festival. Had dinner last night with Mark (monitor engineer), excellent Indian food in Amsterdam and off to bed. No big party night for me, balance and rhythm is my goal in the turmoil.
**** Highlight of the Day - Raspberries ****
I have never tasted or seen a better raspberry than I had today, they were perfect beyond what I though a raspberry could be. I ate the whole package of them.
The Ben and Jerry's bean bag pillows in "The Compound" were a close runner up and take second place for HOTD. Leif (lighting tech) and Scott were soon joined by myself.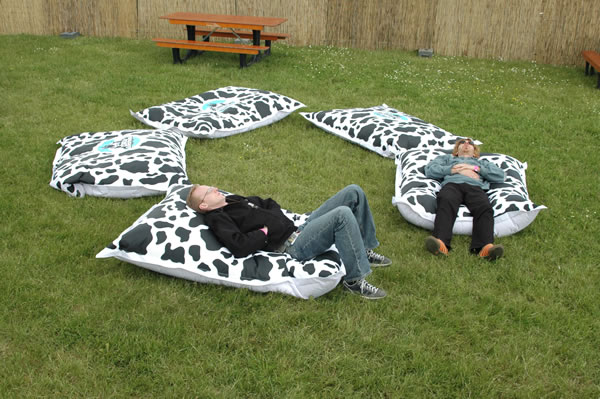 When touring on this level and headlining large festivals means we often get a "Compound" with all Peppers related dressing rooms, production offices, crew room etc. It is really cool to have a place to hang and get away from the fray, even if you can not escape the PA thumping from the other bands. I am going to un escape the Flaming Lips at 5:30 though, I love that band, along with the Pixies, Modest Mouse and Ween, they are one my favorite bands that I have not directly worked for. They did open on a Peppers tour but unlike my many of my other favorite bands, they have never been an official Rat tour.
Nick the Fly finds a car:
Third Highlight of the Day, I talked to Wayne, Flaming Lips singer and he still loves Rat shirt from 10 years ago, got his address and some fresh Rat swag is headed his way! Thank you Daniella!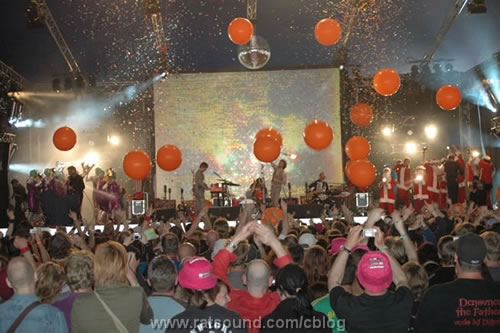 With each passing day of tour I seem to drop another pattern from home and slide closer to just maintaining basic necessities. I have been doing work almost entirely from the BlackBerry as getting an internet connection is more cumbersome than valuable at this point. It is like swimming upstream to try and cling to things like daily shaving, anything remotely resembling a schedule, consistent healthy eating, reasonable sleep patterns and regular communication with any human that is not within shouting distance. When we stop changing countries on a near daily basis, it will get easier.
**** Issue of the Day - Lack of V-Dosc or even more scary, lack of subs! ****
Especially considering that today is a 'Throw and Go' gig for 60,000. That means we get the stage for the first time at set change and we have to get backline, monitors, main system tuned and dialed while the audience is in front of the stage. With a familiar PA system, it is not a big deal but I have only mixed on this type of Martin Line array twice before and had better than ok results. Also, I try never to subject the audience to the check one two or testing of instruments over the sound system, even if the festival does allow it. When I mix, the first time the audience hears band's instruments through the sound system is when the band hits the stage. What I will do is play familiar music to EQ/tune, ask a lot of questions and eliminate every variable I can.
Going from 44 Rat Subs for 20,000 people to 24 Martin subs for 60,000 people is a bit of a concern.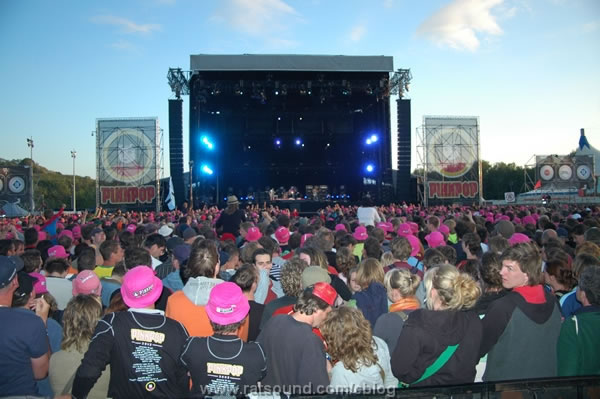 I do like the Martin better than Vertec rigs though. I will now rename Vertec from the Ford Explorer of sound systems to the McDonalds of sound systems. You can get one anywhere in the world, it will keep you from starving, lots of people love their burgers and I will have one if I have to, but given the choice I would much prefer a meal created by a world class french chef.
**** Sound Nerd Speak ****
Oh yeah, subs, 24 is just not going to cut it and the main line array boxes go down fairly low. Using the mains all the way down and overlapping the subs is an option I will not be doing. I like to have separate control over all the sub lows on a single eq and fader. What I am going to do is high pass the main system as I always do (between 100 and 160, venue dependant). I will then split my sub woofer send into a spare x-over and send a second subwoofer send as well that has an independent trim, x-over and mute on my side. The second sub send will get added back into the left and right mix via an XL88. Basically it is a sub on an aux send emulation. I do it a lot when I run into Clair S4 systems when they are not configured with subs on an aux.
**** End Sound Nerd Speak ****
Franz Ferdinand is just finishing up so it is time to get ready to rock.
1:55 am
**** Issue of the Day Part 2 - Wind ****
Technically, sonic projection software will predict system coverage over large areas from giant PA hangs. What it will not predict is the catastrophic effects that wind has on sound, the amount of wind and ways to reduce the bummout factor.
The wind blew sound all over the place. One way of thinking is that wind is an unavoidable act of nature. My experience has been that there are several things that can be done to reduce sonic trauma due to wind.
1) Never rely on just 1 hang per side for a large outdoor show where wind is even a remote possibility. With 2 clusters a side I have found that when wind blows the sound of one cluster away from you, it often will blow the sound of another cluster towards you.
2) Cover extra width. By over-covering you will gain some buffer zone and keep the outer audience covered with breezes and mellow gusts.
3) Minimize long distance throw and rely more heavily on multiple/regional delay clusters. The farther you project sound, the more susceptible it is to wind and environmental issues.
Dave Rat